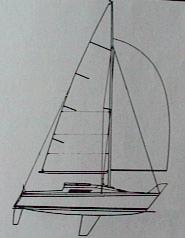 I have been thinking about how to make the laser 28 ramp launchable without losing performance. I believe by replacing the 1500lb fixed keel with the Antrim 27's 1050lb bulb keel I will be able to shave off 490lbs and have a better righting moment! The interior will have to get changed around a bit; but that is also an opportunity to shave weight. I was also thinking of adding a deck mounted sprit. The increased sail area along with the weight reduction should give me a sporty roomy ride.
The rudder could also be updated by replacing the existing one with a mumm 30 rudder foil. This modification has been done to a laser 28 already, and would be a prudent move given the asym mod.
The SA/D ratios are still a bit shy of what the hardcore would call a sportboat, but given the room below, the versatility, and the ability to add more sail area (roachy main) I think the "R28" would be one hell of a deal given the prices of comperable boats available today.
now where is that sawsall!!!